Every once in a while, I'll spot an outfit on someone in my Google reader that I not only love, but also think I can emulate. I'm usually pretty decent at adapting inspiration and making it work for my own closet. (
See, e.g.
,
Inspiring Interpretations
.)
Usually.

Sometimes though, I fall flat on my face.

Take, for instance, this:


I know, okay? I KNOW.
For reference, I was trying to do this:
(from Dash Dot Dotty, who is constantly at the forefront of young business comfortable*)

* What do we think of this as a term for outfits that are business casual but also fabulously comfortable?

It just looks so GOOD on her and so WRONG on me. This is a good lesson in the importance of cut and proportions. In my defense though, I exercised in the morning, so I packed this outfit the night before and didn't think to try it on in advance. And surely a couple "off" outfits here and there is a small price to pay for increased physical fitness, right? RIGHT?

Fortunately, I received a new T-shirt from the Gap that same day, so I was able to fix the outfit a bit:


(Also I posed at a wilder angle.) (Also, this T-shirt is the greatest. So soft and drapes so nicely. I'm wearing a medium (my usual choice for baggy comfort at the Gap) but I think this runs big so I should have gone with a small. To the extent that such information helps you with sizing, there you go.)

And DOUBLE-fortunately, my informal meetings for the day were pushed back a day, so nobody had to witness this mess. (I KNOW, I KNOW.)


Anyway, whomp whomp.
(PSA: I've had my eye on these cute earmuffs from Kate Spade for the last two months and now that they are $30 I am pouncing.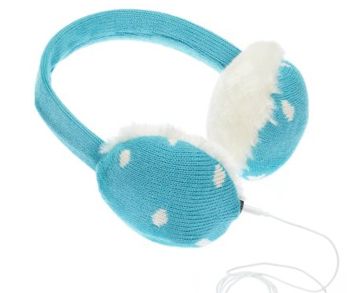 They are wired with headphones! I can't say whether there's a microphone on these for phone-talking, but I've been driven crazy this winter by trying to wedge my phone in between my ear and my earmuffs to talk, so at least with these all I have to do (at the least) is hold my phone in front of my face to talk. I can't vouch for quality since I haven't received mine yet, but Kate Spade as a brand is generally pretty good about fixing problems or taking back defective items (even if they are final sale).)
[Edited to add: I just used them recently, and they don't work! Do not recommend.]