The thing about stores like J.Crew or in-house brands like Halogen (at Nordstrom) is that once you find a size and style of something that works for you, it's easy to go a bit off the rails and buy it several times in multiple colors.
Such was the case with me and the J.Crew Minnie pant.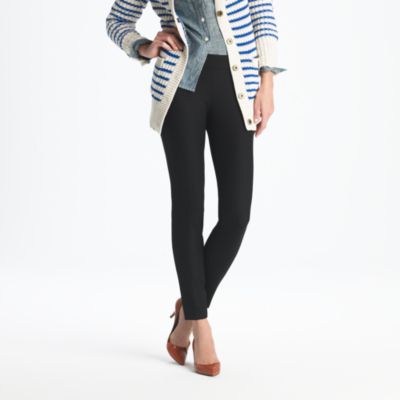 J.Crew Minnie in bi-stretch wool, here, with extra 30% off with code STYLEFIND
Why did I develop such an unnatural fondness for this pant, which is very unforgiving of normal undergarments and sort of makes it look like something is wrong with my crotch? (You can even see it a bit in the model above.)
I can't tell you that. All I can tell you is that over the course of a year I acquired it in four colors.
Then again, I wore two different pairs this week and I liked the outfits, so I guess that's something. Then AGAIN again, I felt the need to digitally retouch the frontal area of the photo below, so I guess that's something else.
In this Outfit:
Polka Dot Chambray Button-Down, Old Navy ($25
here
(+ 15% off) in sizes XL and XXL, and in descending order of price, similar at
J.Crew
,
Gap
,
Kohl's
)
J.Crew Minnie Pants in Bi-Stretch Wool (6T) (
here
, + 30% off with code STYLEFIND) (now that you mention it,
these boulevard green ones
are quite nice...)
Payless Chelsea Flats (9) (
here
, TTS)
Glasses c/o GlassesUSA (review
here
)
Forever 21 Collar Necklace (Doesn't it look a lot like this one from Anthro?? Except it only cost $8?) (similar)
If only I could retouch the weird crotch of these pants IRL...
Do you have any items of clothing that you are irrationally addicted to?