I need to make it a personal rule that I do not go shopping the same day I get my paycheck. It makes me feel a false sense of entitlement to new things.
Here's what I did:
Only
by my standards
would this be considered small! I'm debating whether to keep the J.Crew dress. It was a bit of an impulse buy, and while one can never have too many work-appropriate black dresses, at some point one can really have too many work-appropriate black dresses.
I couldn't resist walking through Betsy Johnson to check out the going-out-of-business sale. It's so sad to hear that this brand is disappearing! I've never been a huge Betsy fan, but I appreciate what she brings to the table, ya know? I bought a huge puffy petticoat, which is probably the most impractical thing ever but I can't yet let go of this fantasy I have of wearing a petticoat to the next wedding I attend. I'll let you know if it ever happens. If not, then I suppose I had a private $50 memorial for Ms. Johnson.
Everything else I bought is relatively low-key and wearable. I found two very easy summer t-shirts at Madewell for about $13 and I picked up a very sweet, silky soft teal dress that will be great for both office and weekend wear. In fact, I'm wearing it today, along with a few new pieces of Madewell jewelry!
Madewell Late Afternoon Dress, size six (here) ($100 online, $70 in stores) (The size four fit and was less blousy, but it didn't allow for much forward range of motion in the arms. The six will prevent me from accidentally
pulling off a Bruce Banner
.)
Madewell birdwhistle necklace (here) (pardon the tangled chain)
Madewell Feather Cuff (here) (I love how this bracelt makes me feel like I have two crazy surface piercings on my wrist)
A relatively small haul from Anthropologie this week, despite the much-anticipated "Tag Sale" that began on Tuesday. (See
here
.) I have to say, I was a bit disappointed with the sale. No extra %-off, no particularly low prices, and no free shipping online. I'm not drawn in by many of the current Anthro offerings and I am trying to ride that wave of relative savings because it balances out those periods when I find myself loving and wanting everything there.
Despite this lukewarm attitude, I was very happy to find a pair of
Madison Shorts
in this delightful green stripe pattern in my size (I went up to an 8 to get a comfortable fit). I have been coveting these since they first came out (and sold out) online and was worried I wouldn't be able to find them once they finally hit sale. Worries: Assuaged!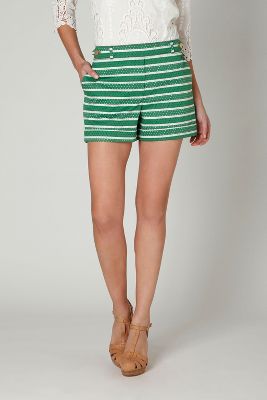 These shorts were really the only item I'd been dying to acquire. I've had my eyes on the bright blue
Zavrel cardigan
since spotting it in NYC a few months ago, but I didn't want to pay $50 for it. At the second-cut price of $30, I figured I'd go for it.
I love the vibrant color, although there's a weird slit on the sides of the cardigan suggesting that it is meant to be tied at the waist. Not sure I'll do that, but it did look kind of nice that way!
Did you pick up anything in the Anthropologie sale? Are you hoping for better markdowns from Anthropologie in the weeks to come? What about from
Kate Spade's surprise sale
?
This bag
was seriously tempting me, but I need to save the money for folding bike accessories!