If you're like me, you may not have invested a whole lot of advance thought and/or preparation into your Halloween costume. The tough part about this time of year is that a costume is often required (or at least strongly encouraged) if you're planning on socializing this weekend. What is a procrastinator to do?
Well, I went out for a bit of Halloween revelry last night.
(Candy corn jello shots! Those of you follow me on Twitter have already seen this. Recipe here, just pour in shot glasses.)
While out and about, I noticed quite a few easy, last-minute costumes requiring minimal preparation, effort, or supplies.
(If you're interested in something more respectable, check out Jess's costume series here.)
Since there are still a few Halloween party days left, I figured I'd share the inspiration in case you too are homebound for lack of a non-committal costume.
Mary, from There's Something About Mary, post-"hair gel"
All you need to make this one work is some hair gel!
Angry Birds (out of umbrellas and construction paper)
To emulate the
angry birds
, grab a red, white, green, blue, yellow, or black umbrella. Cut out the facial features of the birds or pig in construction paper (you just need eyes, beak/nose, and eyebrows). Open your umbrella and then glue the body parts onto the front/top/center of the umbrella. That way, the open umbrella looks like an angry bird face. Bonus points for dressing in the color of your bird/pig/umbrella, but this is not required.
It was cold and rainy in DC last night, so this costume was not only easy but also weather-appropriate!
Sublime
Attach a lime to a hat. Wear the hat. You are sub-lime! Get it?
Occupy Wall Street
There are a few ways to pull off the
Occupy Wall Street
("OWS") class of Halloween costumes in an easy way. OWS, for those who are in the dark, is meant in part to draw attention to the disparity in wealth between the wealthiest 1% of the world and everyone else.
a) Go as an OWS protestor. Wear warm clothes and make an angry cardboard sign.
b) Go as the other 1%. Dress in something fancy.
c) Go as the 1%. . .milk.
(I'm wearing this flannel dress, which is so amazingly comfy that I have lived in it for two weekends in a row. I'm usually a medium in UO clothes, but I sized up to a large in this dress. Also, it's a bit too short to wear as a dress, but it's heaven-on-wheels with leggings/jeggings.)
(My sign was pulled from
this picture
.) I'd been planning to dress in white (like milk), but it was just too cold and wet outside for my white clothes and the only way I could get myself out the door was if I promised my body that it could wear flannel and jeggings. Hey, I already said this was the
lazy
woman's guide.
Also, if you have a gang of friends and a scary number of muppet costumes laying around, you could recreate the Occupy Sesame Street memes floating around the internet:
(Spotted at Dan's Cafe. Quite an amazing thing to see when you first walk into a bar.)
Suffragette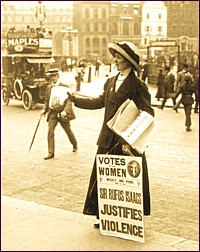 Wear vintagey, conservative clothes and a cloche of some kind. Carry a sign or wear a sash proclaiming "Votes for Women"! Stylish AND politically-minded!

A Dark and Stormy
Wear all black, then pin a cut-out cloud (or lightening bolt) to your shirt.
Wilson from Home Improvement
Carry a board or piece of cardboard drawn on to look like a fence segment. Wear a khaki hat and whatever else you want. When someone asks you what the deal is with the board, hold it up to cover half your face. Brilliant. One and done.
Happy All Hallows Eve Eve!