Today is the last day of the New York Bar Exam. As you read this, I am sitting in a testing room staring down 200 multiple choice questions.
THANK YOU for your amazing show of support
yesterday
and on
Monday
. I haven't responded to you all individually (I've been a little, erm, preoccupied) but please know that I read every single comment and they meant so much to me. I was in a good mental place yesterday, despite the fact that the VERY FIRST question I looked at on the exam asked about a topic I'd completely skimmed over about 10 times in my notes---each time essentially ignoring everything but the subject line because it didn't appear in any of my other review materials. I knew enough to know that I SHOULD know about the subject, but that's about it. But hey, it was only two questions (TWO QUESTIONS!! WHERE DID THIS TOPIC EVEN COME FROM?!)
Anyway, since my brain is pretty fried as it is and I still have one day of testing left to get through, this seems like a good time for me to tell you a little story about what I've been wearing for the seven days before the test:
Yeah. That's it. Two out of three of those "dresses" are actually nighties. If you do the math, you may notice that there are fewer than seven outfits in that set, and there are only two outfits that are meant to be worn outside.
No, I didn't do any laundry. I only put on underwear about 50% of the time. Only a slightly better percentage for showering, and only because of the heat wave.
I was determined to dress like a grown-up for this test, though. Here's what I packed:
(L-R: Travel Day; Day 1; Day 2.)
I'm wearing the Counting Angles today. I plan to head out for post-exam celebrations with my friends IMMEDIATELY following the test, so I made sure to pack a dress that would be comfortable and that wouldn't get wrinkled after sitting in it all day :-)
Tomorrow I'm getting a haircut with my trust NY hair stylist and then a few other body-loving processes. I wanted to stop by an Anthro to try on and presumably buy this lovely dress as a reward for finishing the bar: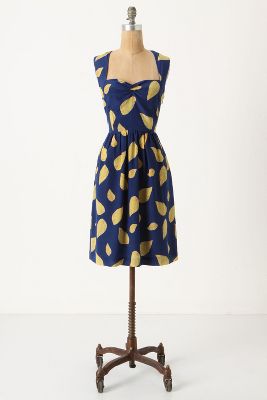 ....but unfortunately it's sold out everywhere in NYC! I suppose I'll have to wait until after my summer travels to pick this one up. (PS: I know it's sold out because I checked...with the folks at Anthro...after stopping by at the end of yesterday's testing day. :-) I had to return a few things...and I may have picked up one or two goodies in the meantime...)
Also, I've got my eye on this bangle...but only if I find out pass the exam in a few months:
Kate Spade "Ahead of the Curve" Bangle. Sold out but available on eBay.