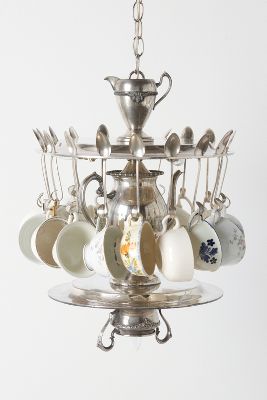 This is Anthro's version. If you hadn't already figured that out.

On Monday, I meandered down to the
H Street area of D.C.
to browse the local Salvation Army for chandelier supplies. I was thrilled to find something that will work as the chandelier centerpiece:
Only $5! Not too shabby!
I also scored a bunch of other parts:
All of this cost me $12!
I love the colors and design of this teacup.
Extra-long spoons.
Clearly, I still need more teacups and spoons. I set a rule that I would not buy any teacups that were chipped or stained, and I'm trying to be selective in choosing some interesting designs along with some more simple patterns.

More importantly, I also need to figure out a way to drill a hole in a heavy silver pitcher. Because of this, I'm rethinking the design a bit. I may eliminate the extra silver pieces (creamer, sugar dish) and simplify the whole thing to be the silver pitcher on top of a tray, and then the teacups/spoons hanging down from the tray. We'll see if I find any good pieces in NYC thrift stores and then I'll go from there. I'm very concerned that I won't be able to make a hole in the pitcher; if that part turns out to be easy, then I may get more fancy-schmancy and complicated.
One I'm-afraid-of-my-own-drill bonus: one of the trays I bought has a few holes already in it! I can thread some wires through these holes to attach a wire ring underneath the tray, and I can hang the spoons/cups from that wire to minimize the drilling.
See that hole on the end in the middle of the embellishment? The tray has three holes spaced around the rim.
Insane Chandelier Project Stats Thus Far:
Cost thus far: $12 for supplies
Time spent thus far: 1.5 hours