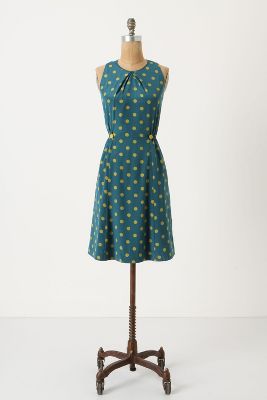 Both the Take Action and the Twinkle Twinkle were made by Girls by Savoy and both have the same cut. It seems like the blogosphere is happy to see a more versatile polka dot pattern on this dress, but I think I actually prefer the yellow stars and small green polka dots on the Twinkle Twinkle.
Regardless, I was thrilled to see this dress in stock at the Anthro in Chevy Chase, MD. I have never done a fitting room review before, but since there do not seem to be a glut of reviews of this item yet, I figured I'd make an exception.
I'm chatting on the phone with a long-time friend. Say "hi" to Michelle, everybody!
I absolutely loved the material that this dress is made of. Like the Twinkle Twinkle, the fabric is soft and silky, while still feeling thick and substantial. This feels like a high quality dress. I normally run a 4-6 in dresses, and the 4 fit me wonderfully. Comfortable all over the place. (Sidenote: I've never tried on the Twinkle Twinkle in a 4, but the size 6 is one size too big for me. I assume that means that whatever size you liked in the Twinkle Twinkle, you will like in the Take Action)
Unfortunately, I'm just not crazy about the cut of this dress. The tapered shoulders mean you won't be able to wear a regular bra with this one; you'll have to go strapless. I could overlook this small inconvenience, but I don't think this dress did me many favors below the waist. I carry my fat in my belly, and the unstructured, flowy nature of the dress seemed to emphasize my paunch.
I hope you've got your tickets for the express train to Paunchville, population: JewishGirl.
However, I'd still recommend this dress if:
You liked the cut of the Twinkle Twinkle dress;
You like polka dots and bright colors; or
You don't have a pregnant-looking nonpregnant belly, as I do.
It's truly lovely, but it didn't flatter me enough to pounce on it right away. I've got this frock wishlisted for sale, but may wait until second cut. Bottom line: if you loved the Twinkle Twinkle, you'll love this one.
Edit: For other reviews of this dress, see---
A more enthusiastic review of this dress at Kim's post here
A less enthusiastic review of this dress at Roxy's post here. I definitely agree with Roxy's point that this dress is not making anybody's boobies look perky.
[Edit: I am not referring to anybody specific here - just a general comment that the bagginess in the chest area isn't particularly flattering. I think all of the boobies in the Anthro blogosphere are perky and wonderful, in or out of this dress. /disclaimer]
A differently proportioned size four girl has a better experience than I did at Kathryn's post here.
EDIT (4/19/11): I've come around on this dress. I acquired a Twinkle Twinkle in the proper size and it's such a sweet dress (see here). Comfortable, simple, great to wear from day-to-night. While I still don't think it's particularly flattering in the belly area, the dress is easy to belt and that minimizes the issue.