Ahh, aren't Tuesdays just wonderful in Anthro fangirl land? Filled to the brim with the joy of new Anthro sale items. This week's sale was surprisingly large, with lots of second cuts appearing as well. You can check out the whole list over at
Roxy's Sale Post
(read the comments to find second and third cuts).
I had a bunch of items to return (and also a price adjustment to cash in on - more on that later), so I had some money to play with. Incidentally, there's nothing like the temptation of new sale items to really clarify which new-with-tags purchases in your closet you really don't need. Back went the
mirrored necklace
, my
waving grain pumps
(they didn't quite fit; I'm keeping
these
instead), a
loosely looped tee
(in purple), and
two
pairs
of tights.
I came home with these:
Floral Frappe Tops in Moss and Lilac, $29.95 (I had to size up from a small to a medium) (available
here
)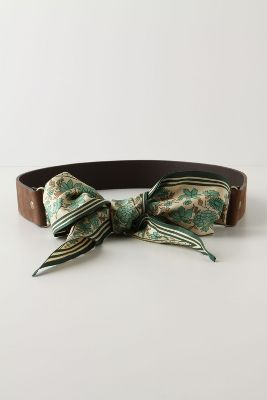 Scarf-Adorned Belt, $14.95 (my belt has a blue scarf with little white polka dots)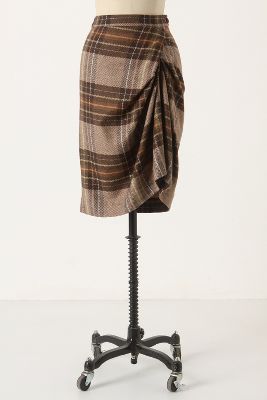 Made To Measure Skirt (sized up to an 8), $39.95
Changing Canopy Dress, $39.95 (Took my normal size 6. I have absolutely no idea how to wear this during the winter, but this will be a spring/summer staple!)
Also, some tights. And a black snap-closure belt whose name I cannot find ($10). And a bright blue skinny belt whose name I cannot find ($15). I narrowly (and I mean NARROWLY) avoided buying the
It's in the Details Jacket
, which for some reason is totally lovely and striking on me
(usually wear a medium in cardigans, sized down to a small)
:
I just couldn't justify the price ($80). I am desperately hoping it gets a second cut. I would drop $40 on this faster than you can log into your
Mint.com
account.
The awesome part about all of this? Some of the NYC stores gave me 25% off my purchases, even though the promo should have ended today! I visited three stores (don't judge; they're close together), and only one didn't honor the 25% (home of the $10 belt, and that's it). Everything else was an extra 25% the prices I listed above! Woohoo!!
A few wonderful and popular items I passed on (but that
you
should seriously consider, include the
DeChelly Dress
(loved this one; had to size up to an 8)
,
Time Gone By Dress
(something about the cut of this probably wouldn't flatter me, and it wrinkles easier than my forehead, but others like it)
,
Peggy Sue Dress
(Sold out online, but still in stores. Go at least one size up in this one. I'm usually a 4-6, and while the 8 zipped, I was experiencing some gut-bulging at the waist. Yes, I have waist gut.)
,
Glad Rags T-Straps
(these got a second cut and are now $50!)
, and the
Engla Trench
.
Still, the absolute best Anthro-related news I got today was that my beloved but anxiety-inducing boots from
this entry
got a second cut today! Since I'm within the price adjustment period, I was able to receive a refund for the price difference between what I paid and the current sale price. AND because the store I went to in NYC is still honoring the 25% off promotion,
I got $75 back
. I basically paid $45 for boots that originally cost $240! For which I willingly paid $120! Woot! Don't you love it when the universe vindicates your decision to purchase something?
And that's why it's ultimately (sort of) rational to spend your money at Anthro, ladies. Their price adjustment and return policies are second-to-none. True story: I originally bought these boots from
an online retailer
for $15 less than the Anthro sale price (still a good option, if you're interested). I found them at Anthro in Chevy Chase, MD a few hours later and cancelled my online order, as I preferred the security offered by Anthro's return policy (Karmaloop only offers returns for store credit). Not only was I able to take advantage of Anthro's absurd (and unforeseen) price adjustment this week, but in the days before that I was able to exchange the boots TWICE for different sizes. It's that kind of flexibility and customer service that keeps me coming back!