This may sound crazy, but here's one DIY project I'm playing around with: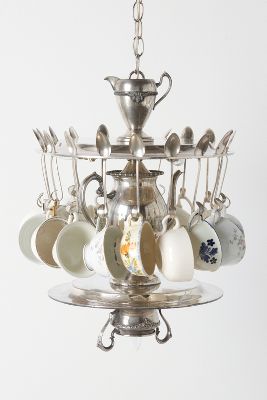 I want to make a chandelier!
Is this totally insane? I think it might be 65-70% insane, which is a completely manageable percentage. Chandelier-making is some kind of hobby, right? People do this? That's what Home Depot is for, right? Wires and lights and teacup chandeliers?
This chandelier retails for $1,800 at Anthropologie.com. I think I can make a version of this on the cheap with hardware from Home Depot (or the like) and tea stuff from Salvation Army (or the like). My cost estimate for this project is $150, including any tool-like equipment I may need to buy.
Really, I need something to occupy my time on the internet that does not involve online shopping. I like the idea of researching chandelier-making and then working with my hands on a project during my downtime. The only piece of equipment I may need that I don't have is a welder. Online shopping for a welder is okay. Not that online shopping is off-limits. That's just 100% crazy.
I'm tagging this post "Insane Chandelier Project." Hopefully, there will be more than one entry under this tag.