I've been---overshopping---a bit lately. Partly because I need new fall/winter clothes now that I'm more than 20 pounds lighter than I was last fall/winter, and partly because I enjoy shopping. It's fun to look at pretty things, fantasize about how they would look on me and what I would wear them to/with, then to hunt for deals, and acquire something(s) new. If I didn't have a well-paying job locked up for next year, I'd be a bit more concerned about my spending. (As it is, I'm sure an upcoming entry will discuss budgeting...maybe...I'll start after my next sale purchase...)
I'm going through an Anthropologie phase at the moment.
Their look is classic, and my overspending is consistently reinforced by the stream of compliments I receive every time I wear one of their pieces. Since learning that Anthro posts new sale items online (almost) every Tuesday at 3am Eastern Time...well, online poker often keeps me up until then, anyway, so why not just snag a few $20 pants before they sell out in the morning? (For comprehensive Anthro sale coverage, check out Roxy's incredible work over at
Effortless Anthropologie
)
My most recent splurge purchase over at Anthro was a fabulous cardigan by New Orleans designer
LiaMolly
(beware of clicking the link. The stuff on that site is overwhelmingly desirable). The cardigan I bought is called the "
Coin Purse Cardigan
"; I'd spotted it in an Anthro store during my Halloween Las Vegas trip, but the regular price was far too expensive for me to stomach. The sale price was still sort of absurd ($89), but the piece was so special that I splurged. I splurged all over myself.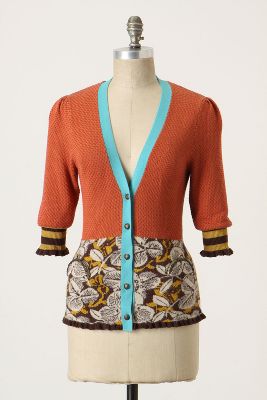 I adore the colors of this piece. The orange and yellow is so warm and autumnal, but the bright blue trim makes me think that the cardigan would transition well into spring. The textures of the knit are varied, with a large almost bubbly gauge on top and a smaller, tighter gauge for the leaves.
The colors alone make the cardigan fabulous, but what really sold me on the price tag was the gimmick in its namesake:
The pockets! They are coin purses! I mean, seriously! Just take my $90 and let me go to bed in shame already.
The fit is snug, which I kind of like. I've paired it with both a solid top and an outrageously patterned top, and I think both may have worked. What say you? Should I be sticking with solid colors here?
PS: I love the boots in this second outfit. I went through about eight pairs at Zappos before finding one that fit over regular (not skinny) jeans + big calves, and that didn't look totally slouchy. Order a half size down.